Uploading photos to ImagenAI
Sending your images to ImagenAI requires loading a Lightroom catalog with the photos you want to upload imported into the catalog.

There are two reasons for sending us your images:

Teaching your AI profile

Editing a project
For teaching, you will need to select a Lightroom catalog (or catalogs) that has finished edited projects.
For editing a project you need to have the images you wish to edit already imported into the catalog.
After selecting your Lightroom catalog, ImagenAI will analyze the catalog.
If ImagenAI found 100% of your images, you will move to select the folders you wish to upload.
If ImagenAI did not find 100% of your imported Lightroom catalog images, it could be one of these situations:
ImagenAI found some of the images; for example, 500/1,000 images were found

ImagenAI found 0 images
There are usually three possible reasons for not seeing 100% of the images:
1. Some or all images/folders are not connected inside Lightroom.
This may happen if the images/folders were moved and not present at the location they were originally imported to and where Lightroom Classic expects them to be.
The Folders that are not linked will not be shown on the ImagenAI folders list at all.
If ImagenAI did not find any image due to this error, the ImagenAI folders list would be blank.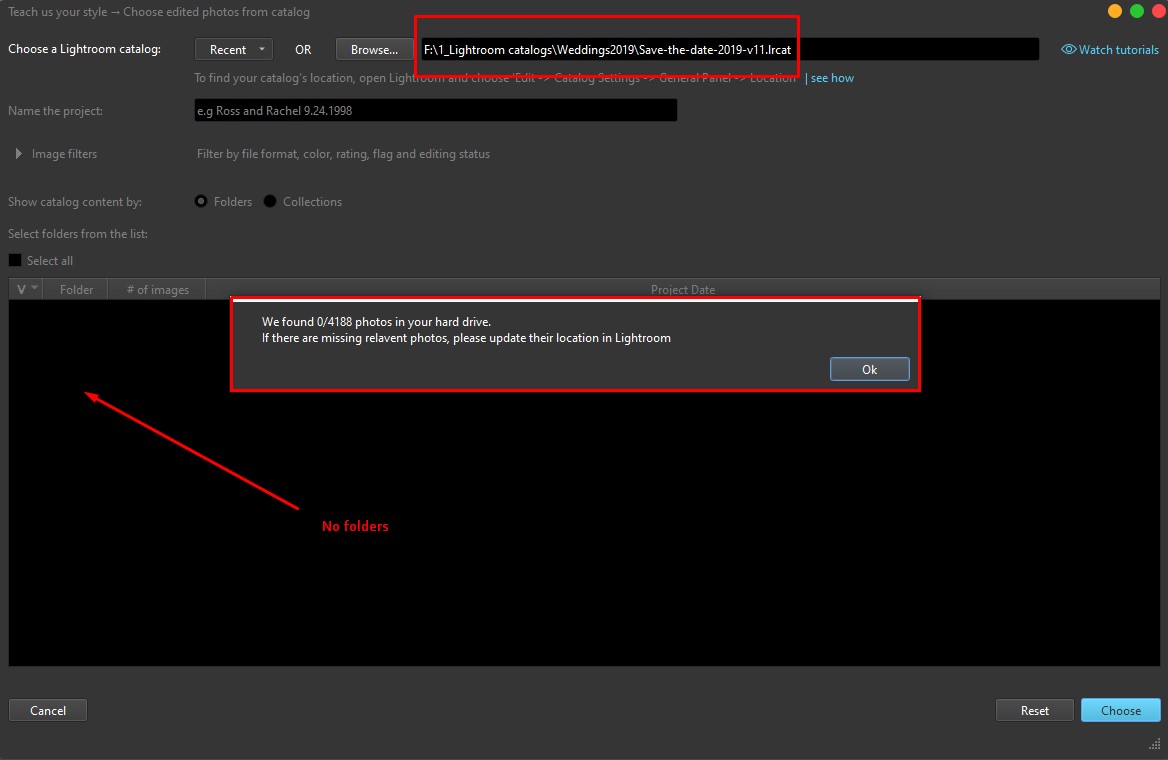 2. Some option on the "Image filters" is filtering the images.
ImagenAI has built-in "Image filters" that can include or exclude photos with Lightroom attributes such as Color/Rate/Flag and more.

If you don't see all of your images, open the "Image filters" section and make sure that none of your relevant photos are not being excluded.


Image filters included


Image filters excluded


Images filtered in Lightroom Classic
If images are not shown due to this reason, your folders will be shown on the ImagenAI folders list.
3. When creating your AI profile, you selected between a RAW or JPEG editing profile.
If the imported images on your catalog are JPEG photos and your editing profile type is set as RAW, or vice-versa, those images will be automatically excluded.

Edit with Creator AI profile can read RAW or JPEG files depending on the profile
This also applies to photographers who select a Talent profile and load a catalog with JPEG images. Our Talent AI profiles currently support only RAW files.

Edit with Talent AI profile only reading RAW files
If you upload using the Teach section, The images unsupported by the profile type will be automatically excluded by the image filters.
If you upload images for editing, then once you load the catalog, ImagenAI will show all the images, regardless if they are RAW or JPEG. But when selecting a RAW editing profile, all the JPEG photos will be automatically excluded by the image filters, and vice-versa.
Troubleshooting steps
1) We recommend as a first step to check if your images/folders are connected inside Lightroom. This issue happens if the photos were moved from the original location they were imported to Lightroom.
Open Lightroom Classic with the Lightroom catalog you tried loading into ImagenAI.
On the Library module, take a look at the left pane (the folder pane), and check if your folders are connected. If they are, click on one of them and make sure that the images inside are connected as well.


Lightroom: Images not found

Lightroom: Folder not found

2) Select the editing profile you want to teach or edit with and open ImagenAI "Image filters". Check if all of the different filters are checked, if one of the checkboxes isn't checked, and your folders and images are connected inside Lightroom, it's likely that you can't see your images because they are excluded.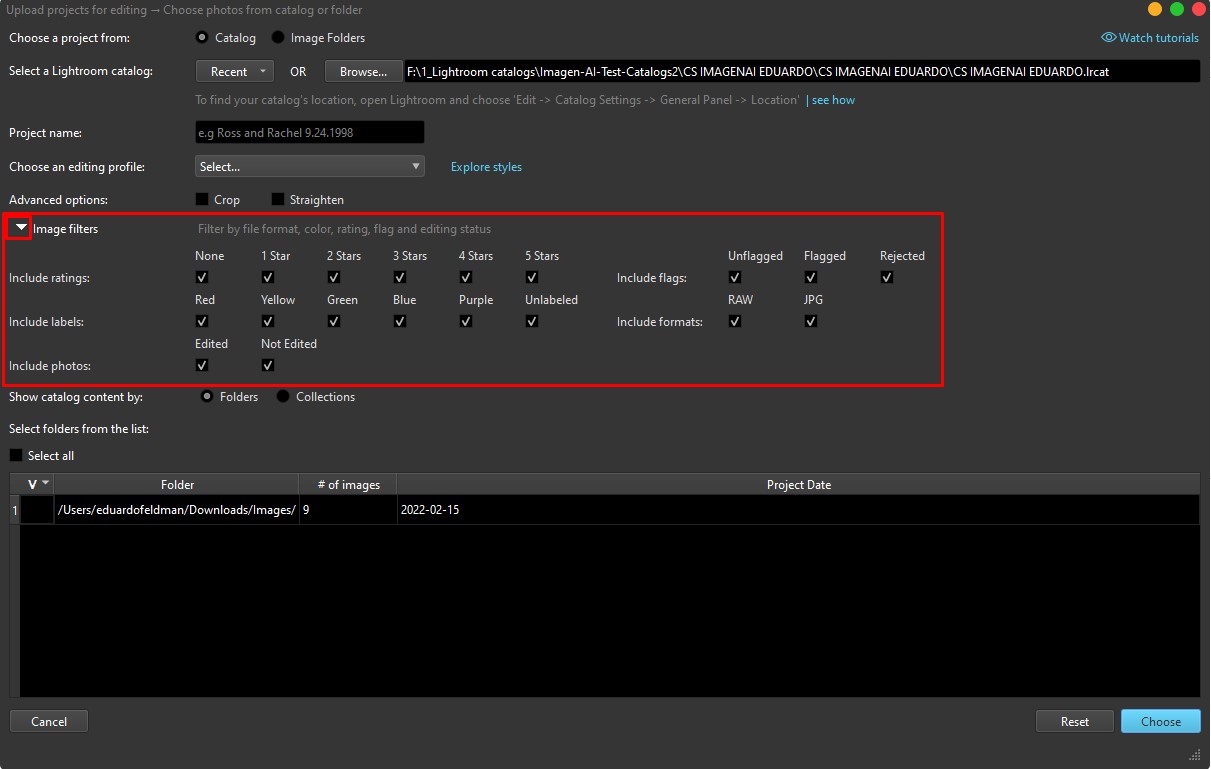 There are two other things to note:
a) "Edited" and "Not edited" options - When sending images for Teach, The "Not edited" checkbox will not be checked by default as we don't want you to upload unedited images to teach us your style.
b)"Include formats RAW | JPEG" - With these checkboxes, you can tell what is the profile type of the selected profile. The file type that is not supported by the profile will be greyed out and unselectable.
3) If your images and folders are connected inside your Lightroom catalog, look for the file type of the images in the catalog. Do they match your AI profile type?
If not and you want to change your profile type or if you are unsure of what profile type you have selected when creating your profile, contact support and we will be happy to help.