Upload requirements and notes
Uploading photos to Imagen requires a Lightroom Classic catalog and an Internet connection.
If all of the photos you wish to upload have Smart Previews built for them, you don't need the original images linked inside the Lightroom Classic catalog.
If the upload process did not reach 100% for whatever reason (computer crash for example), try uploading the project again. Imagen will continue the upload process from where it stopped.
Uploading scenarios
Imagen has two different upload scenarios:
Uploading your final edited projects to build your Personal AI Profile

Uploading your unedited projects for Imagen to edit with your desired AI profile.
Uploading photos for editing
When preparing a project upload, the first step is to import the photos you wish to edit into a Lightroom classic catalog.
This catalog can be your main, large catalog or a catalog made only for this project.
Once the photos you wish to edit are imported into a Lightroom Classic catalog, open Imagen and click on the "Create a Project" button that is found on the Home page or Projects page. Now, you can see the upload screen.
Select the catalog with the images you wish to upload imported to it (Make sure that the photos are connected and linked or have Smart previews built for them).

You can choose the relevant Lightroom Classic catalog with three different methods:



a. Recent - A list of your recently used Lightroom catalogs will appear
b. Browse - Locate your catalog folder manually
c. Drag here to upload

- Drag the relevant Lightroom catalog, and drag it into the box to load it.



If you are unsure of the exact location of the catalog, open Lightroom Classic with that catalog and choose 'Edit → Catalog settings → General panel → Location.'





If you don't see all or any of your photos, move the mouse cursor to the exclamation point icon that will appear on the "Number of images" column to understand how many and why photos are being excluded.



If you want to learn more about it, go to this article: ImagenAI won't show my Lightroom catalog images

Select the relevant folders you wish to upload for editing.




Name your project.




Choose an AI profile for editing.




"Advanced options." - Choose if you want Imagen to Crop and/or Straighten your photos.




"Image filters." This feature allows you to include or exclude photos that have unique color/rate/flag attributes applied to them.

"Show catalog content by." This option allows you to switch between a view of the folders or collections that the selected catalog has.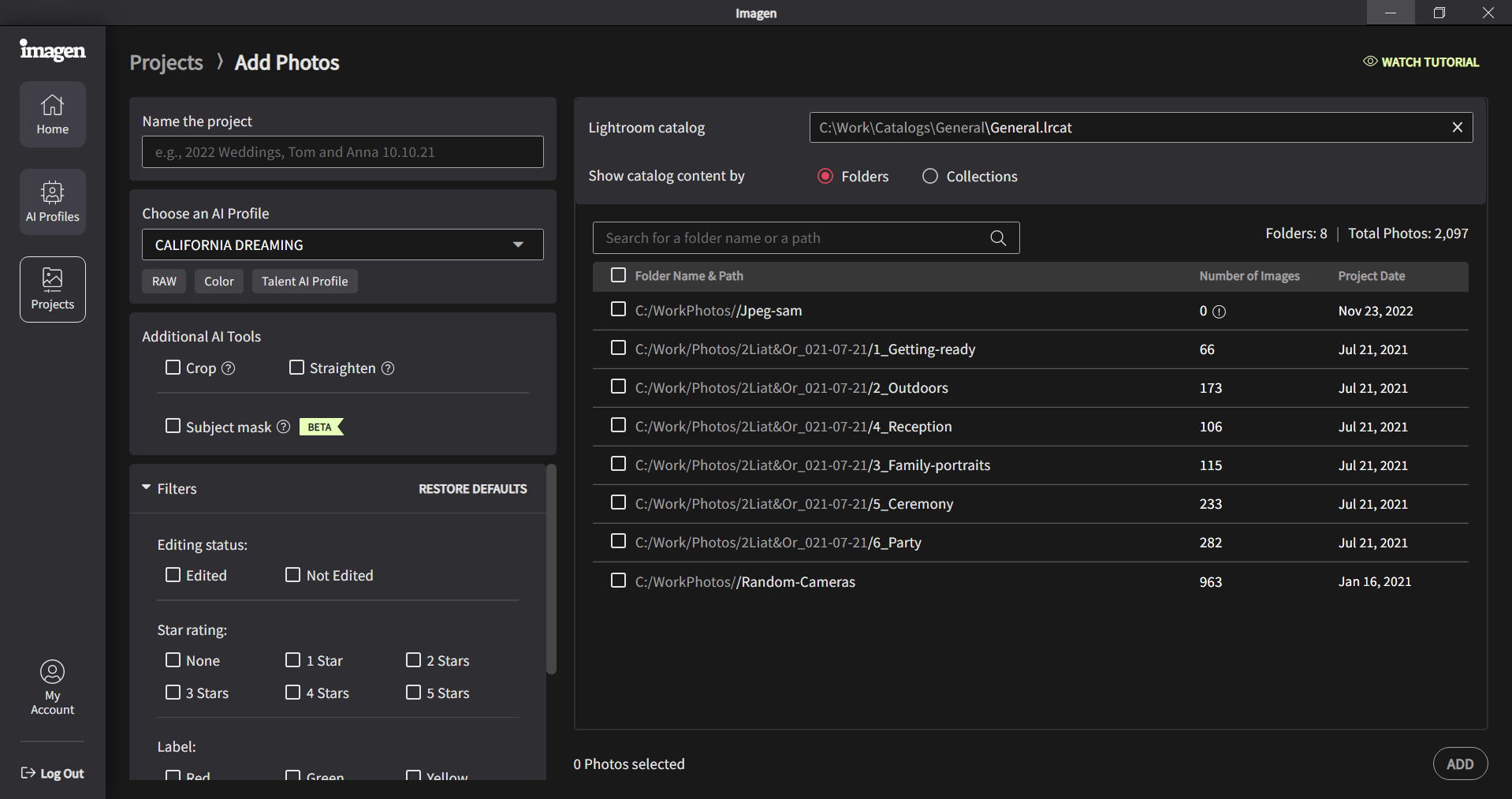 Once the relevant photos for editing are selected, a profile name is given, and the editing AI profile is selected, click the red "Add" button on the lower right corner of the screen. If the button is greyed out, that means you did not select photos for editing.
You will redirect to a summary of what has been chosen, and you will have two options to move forward:
"Upload" - Located in the lower right corner:





By clicking on this button you will begin the upload process.

"Create a New Project" button - located in the upper right corner:





By clicking on this button you will go back to the upload screen, where you can select another project to upload for editing.



You can use this feature if you wish to upload more than one project.
It can be a new project with photos from the same catalog with another editing AI profile or if you wish to upload photos from a different catalog.
After your upload was successfully finished, a "Processing" animation will be shown next to your project name.
The editing process is happening on our servers, so you can close the ImagenAI app without harming the process.
When the edit is ready a green text will appear stating that your project is "Ready" and the "Download edits" button will also be available.
Uploading photos to build a Personal AI Profile
Uploading photos to build your own Personal AI Profile requires a slightly different Lightroom Classic catalog preparation, especially if it's your first Creator AI Profile you are building with Imagen.
You will have to make sure that the folders and photos are connected inside the catalog in case you had moved them from the original folder they were imported and edited, or that ALL of those photos have Smart Previews available for them.
ImagenAI won't show my Lightroom catalog images
There are a few differences between the upload screen of the profile creation and editing screens:
On the upload screen of the profile creation upload screen, you don't have to select an editing profile, as you selected which

Personal AI

profile you want to upload edited photos to on the screen before.

The "Image filters" will have the "Not edited" option grayed out.





This happens because uploading unedited images to the "Teach" process can cause your profile to output inaccurate results.